Montes
Montes was established in 1988 by Aurelio Montes, Douglas Murray, Alfredo Vidaurre and Pedro Grand, with the aim to produce the best wines in Chile from the best regions.
We have long admired Montes and what they have done for Chilean wine over the past 25 years.

The Montes Alpha Cabernet Sauvignon, first produced in 1987, broke the mould for premium wines in Chile. Since then, Alpha has gone from being a wine to being the core range in the Montes portfolio. The grapes and sites are carefully selected in order to ensure varietal integrity and complexity .
Viticulture is hands on and individual rather than mechanical and industrial. The result is a range of wines that offer superb value within the premium wine market - whether from Chile or anywhere else.
Montes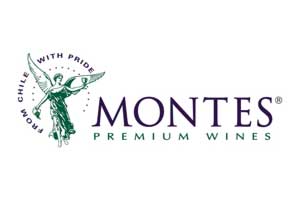 Chile


Montes Alpha Merlot 2019
Vibrant ruby red in colour, this plummy Merlot has hints of vanilla and chocolate with velvety tannins, crisp acidity and a fragrant finish.
Alpha Merlot 2019