Inniskillin
Inniskillin is now synonymous with top quality Icewine and consistently sets the bar much higher than its competitors. This is underlined by the numerous awards that they have won.
Inniskillin harvests at a higher brix level than the minimum set by the VQA (Vintners Quality Alliance in Ontario) and their wines have a higher level of residual sugar. This gives richer, more intense wines that merit their higher price.
Inniskillin history
Inniskillin was founded in 1975 by Austrian chemist Karl Kaiser and Italian-Canadian agriculture graduate Donald Ziraldo, who worked tirelessly to introduce better vines and superior winemaking techniques to Niagara.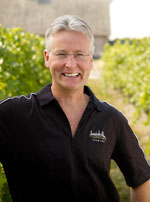 In 1984, to make the most of the extreme Canadian winter, Kaiser produced his first Icewine – a pivotal point in garnering attention from the international wine world. In pursuit of industry-wide excellence, Ziraldo introduced the VQA system for Ontario's wines in 1989, which set high standards of quality and identified appellations of origin.
In 2007, following the retirement of Kaiser, Bruce Nicholson joined Inniskillin Niagara as senior winemaker. Born and raised in the Niagara Peninsula, Bruce sits on the technical committee of the VQA and the committee for Sustainable Winemaking of the Wine Council of Ontario.
Inniskillin vineyards
The vineyards planted with Riesling and Vidal that are dedicated to the production of Icewine surround the winery on the Brae Burn Estate, just 20 minutes north of Niagara Falls.
The mineral rich soils consist of clay-loam with glacial and alluvial deposits, while the warm summers (to ripen the grapes) and the cold winters (to provide the essential natural freezing) offer the ideal climatic conditions for the production of premium Icewine.

Canada

Inniskillin Gold Vidal Icewine 2017

This icewine reflects lots of intense layers from its short exposure to oak. The peaches and apricot aromas and flavours develop into complexities of marmalade and candied brown sugar as it ages. The ample natural acidity is softened by the oak aging adding a creamy vanilla flavor.

Gold Vidal Icewine 2017

Canada

Inniskillin Vidal Sparkling Icewine 2012

Exotic fruits, peaches, oranges and honey dominate the nose of this unique icewine. The palate continues with citrus, mango, lychee and pineapple balanced by a crisp acidity and lively effervescence. An Inniskillin classic!

Vidal Sparkling Icewine 2012

Canada

Inniskillin Riesling Icewine 2017

This Riesling Icewine shows the elegance of tropical aromas and flavours of lemon and lime. The good acidity of Riesling allows for a refreshing mouth feel amid the many layers of flavours that unfold.

Riesling Icewine 2017

Canada

Inniskillin Cabernet Franc Ice Wine 2012

Characteristics of strawberry, raspberry and rhubarb dominate the nose while the palate shows a robust concentration of red fruits as well, all of which complemented by a well balanced acidity. Pairs well with chocolate or chocolate mousse and red fruit based desserts or simply strawberries and cream!

Cabernet Franc Ice Wine 2012