History of F.X. Pichler
The history of this estate dates back to 1898 when it was founded in Oberloiben.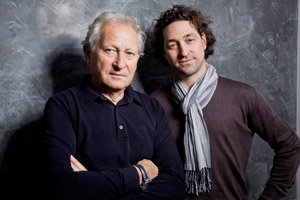 In 1928 Franz Pichler started to select his own Grüner Veltliner clones, focusing on the vines that were producing small-berried grapes, to ensure lower yields, better extract and fruit character - the estate's reputation as undisputed Grüner specialists was starting to be formed. In the early 1970s Franz Xaver (F.X.) Pichler took over the helm at the estate and his meticulous approach to production earned him cult status in Austria.
In 1996 his son, Lucas, joined the team at the winery and in 1999 he took over the winemaking, with Franz Xaver looking after the viticulture.
In 2009 Lucas took control of the whole estate, with his father still on hand to offer advice and guidance when needed. The commercial side of the operation is also family-run with F.X. Pichler's wife, Rudolfine, and daughter, Elisabeth, overseeing sales, exports and marketing.
The talent and work of F.X. Pichler and Lucas has ensured their position in the Austrian wine hierarchy and they are widely regarded to be the best producer in the Wachau. Since then the vineyard holdings have grown and now cover 16ha.
Wine styles
They are great believers in the potential of Grüner Veltliner, which makes up around 50% of their production, but they also make phenomenal Rieslings, capable of expressing astonishing mineral power. Riesling makes up 49% of production, with the remaining 1% being Sauvignon Blanc. Approximately 80% of their production is labelled as Smaragd; all the other wines are Federspiel.

The majority of the wines are vineyard-designated, but in the very best years, F.X. Pichler also produces two top-end cuvées, namely "M" and "F.X. Unendlich".
"M", (the M standing for monumental) is a Grüner Veltliner of exceptional quality that was first made in 1991. The fruit is usually harvested 2-3 weeks after the grapes for the single vineyard wines and, depending on the year, around 70% of the fruit is sourced from Loibnerberg, the balance coming from a selection of other premium sites.
"F.X. Unendlich" (meaning 'never-ending' in German) was first made in 1988 and reflects a similar philosophy aiming to produce a wine that reflects the best of terroir and variety.
Austria

F.X. Pichler Riesling Loibner Burgstall Federspiel 2018

Riesling Loibner Burgstall Federspiel 2018

Austria

F.X. Pichler Riesling Loibner Loibenberg Smaragd 2017

Riesling Loibner Loibenberg Smaragd 2017

Austria

F.X. Pichler Riesling Loibner Steinertal Smaragd 2016

Riesling Loibner Steinertal Smaragd 2016

Austria

F.X. Pichler Gruner Veltliner Durnsteiner Liebenberg Smaragd 2017

The wine is complex and layered with citrus and peach fruit, with a spicy character on the palace and a lovely savouriness on the finish.

Gruner Veltliner Durnsteiner Liebenberg Smaragd 2017

Austria

F.X. Pichler M Riesling Reserve 2018

This is Pichler's flagship wine. It is their richest style, off-dry with ripe yellow peach flavours and a voluptuous palate due to its time spent in barrel.

M Riesling Reserve 2018

Austria

F.X. Pichler M Gruner Veltliner Smaragd 2017

"M" is a very different style to the other wines from F.X. Pichler. This wine is bright yellow-green in colour. On the nose, there are notes of ripe mango, honey and spice. On the palate, there are spicy characters with a hint of anise. This wine is full-bodied, concentrated and the finish is long and luscious.

M Gruner Veltliner Smaragd 2017

Austria

F.X. Pichler Riesling Durnsteiner Kellerberg Smaragd 2017

Riesling Durnsteiner Kellerberg Smaragd 2017