Catena Zapata
Argentina's superstar winery!
Nicola Catena planted his first Malbec vineyards in Mendoza in 1902. Malbec had been a blending grape in Bordeaux, but Nicola suspected it would find its hidden splendor in the Argentine Andes. Fast forward sixty years and Nicola's grandson Nicolas took the reigns of the family firm.
Since the mid-1960s, Nicolas has spent his career building Catena in to one of the world's best wineries, emulating what his mentor Robert Mondavi achieved in California. Nicolas was a pioneer of high-altitude viticulture in Mendoza, proving that vineyards high in the Andes could produce wines with amazing flavour, aroma and tannins.
In 2001 Nicolas' daughter Laura took over the Research & Development program at Bodega Catena Zapata and as a result three spectacular new Malbec's were made which show the incredible quality of the family's high altitude Malbec vineyards.
Catena Zapata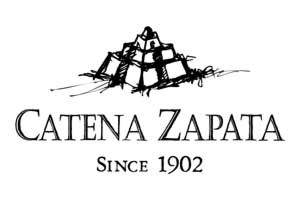 Argentina


Catena Zapata Catena Chardonnay 2020
The world famous producers at Catena have brought
Argentinean Chardonnay into another level
- crisp pineapple and citrus fruits with an elegant finish.
Catena Chardonnay 2020