Amalaya
Amalaya translates to 'Hope for a Miracle' in the indigenous language of the now extinct tribe, the Calchaquí.
The winery is situated in the Calchaquí Valley of Salta in the far north of Argentina at nearly 1,828 metres above sea level. It is a part of the Hess Family Estates and is run with the same dedication to quality, sustainability and social responsibility as the other Hess Estates around the world.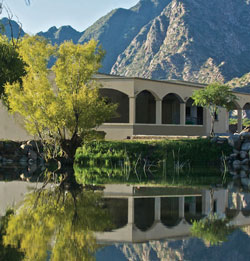 Amalaya has 220 hectares of land with approximately 35 hectares of Malbec, Torrontés, Cabernet Franc and Syrah in production, and another 90 hectares in development, which have been planted in the last two years. Grapes come from three vineyards:
Finca Las Mercedes, with deep sandy soils
Finca La Brava, with rocky soils
Finca Amalaya, with fractured rocky soils and stones of varying sizes.
Like the wines of Bodega Colomé, the grapes benefit from being planted at altitude. The vines are drip irrigated using mountain run off water stored in reservoirs, because the average annual rainfall is only 150mm.
All of the Amalaya wines are fruit driven in style, with a finesse that unites them. Pioneering a trend of blending based on the signature grapes from Argentina, Malbec and Torrontés, the winemaking team at Amalaya is continually striving to demonstrate the richness that can lie beyond single varietal wines from Argentina.
These wines offer incredible value for their quality and truly reflect their sense of place.
Amalaya

Argentina

Amalaya Blanco 2022

Intense gold in colour with tints of green. On the nose this wine is intense and complex with aromas of citrus and grapefruit typical of Torrontes. Delicate and silky on the palate with great freshness and crisp acidity on the distinctly mineral finish.

Blanco 2022

Amalaya

Argentina

Amalaya Tinto 2021

For centuries, farmers made offerings in hope for a miracle – as Amalaya translates in the local language – for a bountiful harvest. It is located at 1,800 meters above sea level, in the Calchaqui Valley, northwest of Argentina. The region stands out as one of

the highest vineyards in the world

, characterized by its dry climate with no more than 150 mm annual rainfall, with significant thermal amplitude; rocky and sandy soil.

Tinto 2021